Now serving face painting, balloon twisting, and temporary tattoos for all of Connecticut and NY!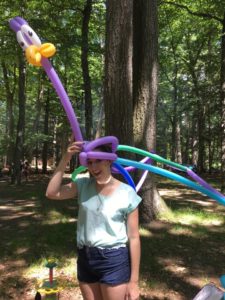 Good news!! In addition to our fantastic face painting packages we are now offering Balloon twisting to all our service areas in NY and Connecticut.
Because of growing demand in CT and areas of the NY metro area, we're adding on ballon twisting by itself or packaged with face painting and other party entertainment for your next event. To help us keep up with the demand for balloon twisters we've hired new balloon twisters who are well trained in their skill and love creating wonderful balloon creations for kids. Balloon animals, balloon crowns, jet packs and more!
ct, ma, ri, concord, marblehead, new medford, quincy, lynn, somerville, new britain, west hartford, glastonbury, middlesex, tolland, windham, essex, bristol, franklin, hapmden, cambridge, stamford, waterbury, bridgeport, torrington, litchfield, new haven, fairfield, norwalk, hartford, danbury, amherst, northampton, chicopee, springfield, agawam, greenfield, boston, salem, peabody, rhode island, providence, westerly, newport, warwick, cranson, attleboro, west hartford, connecticut, rhode island, Massachusetts, new hampshire, NH, Manchester, Nashua, Concord, Derry, Dover, Rochester, Salem, Merrimack, Hudson, Londonderry, Keene, Bedford, Portsmouth, Andover , Ansonia , Ashford , Avon , Barkhamsted, Beacon Falls , Berlin , Bethany, Bethel , Bethlehem, Bloomfield , Bolton , Bozrah , Branford, Bridgeport, Bridgewater , Bristol , Brookfield , Brooklyn , Burlington, Canaan, Canterbury, Canton, Chaplin, Chatham, Cheshire, Chester, Clinton, Colchester, Colebrook, Columbia, Cornwall, Coventry, Cromwell, Danbury, Danielson, Darien, Deep River, Derby, Durham, East Granby, East Haddam, East Hampton, East Hartford, East Haven, East Lyme, East Windsor, Eastford, Easton, Ellington, Enfield, Essex, Fairfield, Farmington, Franklin, Glastonbury, Goshen, Granby, Greenwich, Griswold, Groton, Guilford, Haddam, Hamden, Hampton, Hartford, Hartland, Harwinton, Hebron, Huntington, Jewett City, Kent, Killingly, Killingworth, Lebanon, Ledyard, Lisbon, Litchfield, Longmeadow, Lyme, Madison, Manchester, Mansfield, Marlborough, Meriden, Middlebury, Middlefield, Middletown, Milford, Monroe, Montville, Morris, Naugatuck, New Britian, New Canaan, New Fairfield, New Hartford, New Haven, New London, New Milford, New Shoreham, Newington, Newton,
Norfolk, North Branford, North Canaan, North Haven, North Stonington, Norwalk, Norwich, Old Lyme, Old Saybrook, Orange, Oxford, Plainfield, Plainville, Plymouth, Pomfret, Portland, Prague, Preston, Prospect, Putnam, Redding, Ridgefield, Rocky Hill, Roxbury, Salem, Salisbury, Saybrook, Scotland, Seymour, Sharon, Shelton, Sherman, Simsbury, Somers, South Windsor,
Southbury, Southington, Sprague, Stafford , Stamford, Sterling, Stonington, Strafford, Stratford, Suffield, Thomaston, Thompson, Tolland, Torrington, Trumbull, Union, Vernon, Voluntown, Wallingford, Warren, Washington, Waterbury, Waterford, Watertown, West Hartford, West Haven, Westbrook, Weston, Westport, Wethersfield, Willimantic, Willington, Wilton, Winchester, Windham, Windsor Locks, Windsor, Wolcott, Woodbridge, Woodbury, Woodstock, Abington, Acton, Acushnet, Adams, Agawam, Alford, Amesbury, Amherst, Andover, Aquinnah, Arlington, Ashburnham, Ashby, Ashfield, Ashland, Assonet, Freetown, Athol, Attleboro, Auburn, Avon, Ayer, Baldwinsville, Templeton, Barnstable, Barre, Becket, Bedford, Belchertown, Bellingham, Belmont, Berkeley, Berlin, Bernardston, Beverly, Billerica, Blackstone, Blandford, Bolton, Boston, Bourne, Boxborough, Boxford, Boylston, Bradford, Haverhill, Braintree, Brewster, Bridgewater, Brimfield, Brockton, Brookfield, Brookline, Buckland, Burlington, Buzzards Bay, Bourne, Byfield, Newbury, Cambridge, Canton, Carlisle, Carver, Charlemont, Charlton, Chatham, Chelmsford, Chelsea, Cherry Valley, Leicester, Cheshire, Chester, Chesterfield, Chicopee, Chilmark, Clarksburg, Clinton, Cohasset, Colrain, Concord, Conway, Cotuit, Barnstable, Cummington, Dalton, Danvers, Dartmouth, Dedham, Deerfield, Dennis, Dennisport, Dennis, Dighton, Douglas, Dover, Dracut, Dudley, Dunstable, Duxbury, East Bridgewater, East Brookfield, East Longmeadow, East Sandwich, Sandwich, Eastham, Easthampton, Easton, Edgartown, Egremont, Erving, Essex, Everett, Fairhaven, Fall River, Falmouth, Fiskdale, Sturbridge, Fitchburg, Florida, Foxborough, Framingham, Franklin, Freetown, Gardner, Gay Head, Martha's Vineyard, Georgetown, Gill, Gloucester, Goshen, Gosnold, Grafton, Granby, Granville, Great Barrington, Green harbor, Marshfield, Greenfield, Groton, Groveland, Hadley, Halifax, Hamilton, Hampden, Hancock, Hanover, Hanson, Hardwick, Harvard, Harwich, Harwichport, Harwich, Hatfield, Haverhill, Hawley, Heath, Hingham, Hinsdale, Holbrook, Holden, Holland, Holliston, Holyoke, Hopedale, Hopkinton, Hubbardston, Hudson, Hull, Huntington, Ipswich, Jefferson, Holden, Kingston, Lakeville, Lancaster, Lanesborough, Lawrence, Lee, Leicester, Lenox, Leominster, Leverett, Lexington, Leyden, Lincoln, Linwood, Northbridge, Uxbridge, Littleton, Longmeadow, Lowell, Ludlow, Lunenburg, Lynn, Lynnfield, Malden, Manchester, Manomet, Plymouth, Mansfield, Marblehead, Marion, Marlborough, Marshfield, Marston Mills, Barnstable, Mashpee, Mattapoisett, Maynard, Medfield, Medford, Medway, Melrose, Mendon, Merrimac, Methuen, Middleborough, Middlefield, Middleton, Milford, Millbury, Millis, Millville, Milton, Monroe, Monson, Montague, Monterey, Montgomery, Mount Washington, Nahant, Nantucket, Natick, Needham, New Ashford, New Bedford, New Braintree, New Marlborough, New Salem, Newbury, Newburyport, Newton, Norfolk, North Adams, North Andover, North Attleboro, North Brookfield, North Reading, North Truro, Truro, Northampton, Northborough, Northbridge, Northfield, Norton, Norwell, Norwood, Oak Bluffs, Oakham, Onset, Wareham, Orange, Orleans, Osterville, Barnstable, Otis, Oxford, Palmer, Paxton, Peabody, Pelham, Pembroke, Pepperell, Peru, Petersham, Phillipston, Pittsfield, Plainfield, Plainville, Plymouth, Plympton, Pocasset, Bourne, Princeton, Provincetown, Quincy, Randolph, Raynham, Reading, Rehoboth, Revere, Richmond, Rochdale, Leicester, Rochester, Rockland, Rockport, Rowe, Rowley, Royalston, Russell, Rutland, Sagamore, Bourne, Salem, Salisbury, Sandisfield, Sandwich, Saugus, Savoy, Scituate, Seekonk, Sharon, Sheffield, Shelburne, Sherborn, Shirley, Shrewsbury, Shutesbury,Somerset, Somerville, South Hadley, South Wellfleet, Wellfleet, South Yarmouth, Yarmouth, Southampton, Southborough, Southbridge, Southwick, Spencer, Springfield, Sterling, Stockbridge, Stoneham, Stoughton, Stow, Sturbridge, Sudbury, Sunderland, Sutton, Swampscott, Swansea, Taunton, Teaticket, Falmouth, Templeton, Tewksbury, Tisbury, Tolland, Topsfield, Townsend, Truro, Tyngsborough, Tyringham, Upton, Uxbridge, Vineyard haven, Tisbury, Wakefield, Wales, Walpole, Waltham, Ware, Wareham, Warren, Warwick, Washington, Watertown, Wayland, Webster, Wellesley, Wellfleet, Wendell, Wenham, West Barnstable, Barnstable, West Boylston, West Bridgewater, West Brookfield, West Newbury, West Springfield, West Stockbridge, West Tisbury, West Yarmouth, Yarmouth, Westborough, Westfield, Westford, Westhampton, Westminster, Weston, Westport, Westwood, Weymouth, Whately, White Horse Beach, Plymouth, Whitinsville, Northbridge, Whitman, Wilbraham, Williamsburg, Williamstown, Wilmington, Winchendon, Winchester, Windsor, Winthrop, Woburn, Wollaston, Woods Hole, Falmouth, Worcesterm Worthington, Wrentham, Yarmouth, Yarmouthport, Yarmouth